Jagdalpur (जगदलपुर) is a city in Bastar district in Chhattisgarh state. It is the administrative headquarters of Bastar District and Bastar Division. It was earlier the capital of the erstwhile princely state of Bastar. It is located at 19.07°N 82.03°E. It has an average elevation of 552 metres (1811 feet). The city is located on the south bank of the Indravati River. It is about 300kms away from Raipur, the capital of Chhattisgarh state.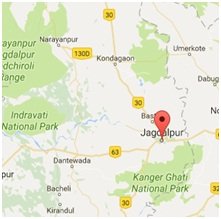 Jagdalpur is known for many nearby tourist attractions, greenery, dense forests, streams, waterfalls, caves, natural parks, natural resources, herbs, exuberant festivity and peaceful solitude. Famous tourist attractions near Jagdalpur include Chitrakote Falls, Teerathgarh Falls, Kanger Ghati National Park, Kotumsar Cave, Kailash Caves, etc. Bastar is full of natural beauty, covered with Sal (Soria Robusta), teak forest, abundant deposits of mineral resources and with large tribal population, Bastar is the gift of the nature. Today's Bastar is progressing towards education and development. 
Currently, National Mineral Development Corporation (NMDC) is setting up a 3 MTPA capacity greenfield Integrated Steel Plant in Nagarnar, located 16 km from Jagdalpur. It is scheduled to commence commercial operation in Mid 2017.